Our Next Travel Destination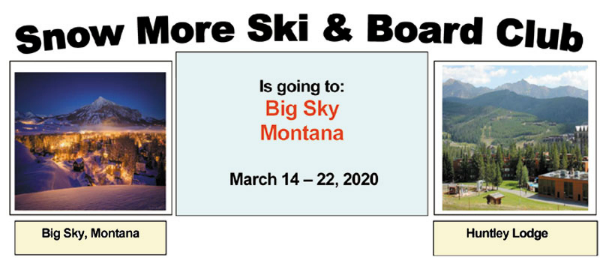 Big Sky Montana
March 14th - 22nd, 2020

Seven Day Trip!

$1,225 per person based on 2 people sharing the Huntley Lodge.

Hot Buffet Breakfast Daily

$1,135 per person based on 4 people sharing the Stillwater Condos.

Single price: Additional $155 Stillwater condos.

Bus included with the time arrivals and departures below: Catch the bus and do your own air.

"Arrive by 2:25 in Bozeman and Depart from Bozeman by 3:05 pm or later."

* Welcome Reception

* Farewell Party

Lots of Activities for Non-Alpine skiers Snow shoeing, Nordic skiing, ice skating, dog sled rides, shopping.
Optional:

* Air and 5- or 6-day ski pass available at discounted price. Or buy the Icon Pass or the Mountain Collective

* Day Trip to Yellowstone!
Book with us: We also have Reno Air!

* Group Air IT: SFO to Bozeman Alaska Airlines-383 E

Depart: SFO 3/14/2020 08:10 am Arrive: PDX 3/14/2020 09:55 am Alaska Airlines-2012 E

Depart: PDX 3/14/2020 11:40 am Arrive: BZN 3/14/2020 02:25 pm Alaska Airlines-2007 E

Depart: BZN 3/21/2020 03:05 pm Arrive: PDX 3/21/2020 04:05 pm Alaska Airlines-450 E

Depart: PDX 3/21/2020 05:20 pm Arrive: SFO 3/21/2020 07:05 pm
CST#2097435-40

Our Next Destination. Japan in 2020-2021